PROJECT SUMMARY
Project Re-stART is a community art installation located on Saginaw Highway in Lansing, Michigan that I helped design and implement. The project brings Lansing west side families, particularly children, and formerly-incarcerated youth working on a fresh start together with art and engineering students from Michigan State University to celebrate Lansing's bright future and significant past. This is a collaborative effort between Michigan State University, Ford Motor Company, Peckham Inc, and RACER Trust. The project is located on the north side of Saginaw Highway at the site of the former GM Lansing Metal Center in Lansing, Michigan. Project Re-stART focuses on the theme 'Growth' and depicts the change that Lansing's youth wish to see in the area. The video below, developed by 
Scott Allman
, shows the development of Project Re-stART between September 2013 and October 2015.
Keep reading below to learn more about my involvement with Project Re-stART.

CULTURES OF CREATIVITY IN DETROIT
My involvement with Project Re-stART started when I signed up for a freshman study away program. During the summer before my freshman year of undergrad, I spent a week studying innovative design, collaborative teams, creative cities, and transformative spaces with an interdisciplinary group of engineering and humanities students. Fellow humanities student, 
Sam Kinjorski
, wrote 
a blog post
 about the trip on the Summer of RCAH blog.
SOLVING A DESIGN PROBLEM
When we started classes in the fall, we were already enrolled in a follow-up course, where we were had to use the knowledge we had gained in Detroit to solve a design problem for a client. We were introduced to participants from Peckham Inc.'s Next Step Program, an opportunity for formerly-incarcerated youth to make a fresh start by obtaining their GED, taking career-readiness and college-prep courses, and fulfilling volunteer opportunities.
In 2012, a year before we arrived at Peckham, the Next Step participants decided that they were sick of passing the vacant lots on Saginaw Highway, where the GM Lansing Craft Center and Lansing Metal Center were until they were demolished in 2008. They decided to take action by developing a plan to attach a plywood mural to the chainlink fence that surrounded the property. However, their plan was stopped by a structural engineer, who feared that the area's strong winds would send the plywood murals sailing directly into the traffic on Saginaw Highway.
We formed interdisciplinary teams of engineering, humanities, and Next Step students based off our own understanding of each other's skills and leadership styles. We spent a couple of weeks carefully defining the problem we were trying to solve through research on the history surrounding the project, the project site, and the various stakeholders involved. All three teams used the information they collected to create a design brief, which, along with defined design restraints, informed our first round of designs and prototypes. We presented our concepts to executives at Peckham Inc., faculty from the Residential College in the Arts and Humanities and the College of Engineering, and representatives from the funder, Ford Motor Company. Then, we all joined forces and used the feedback from these presentations to design a new concept.
REDESIGN
The design concept that we had by the end of the semester had been developed collaboratively and within our design parameters, but there were too many technical limitations that kept us from implementing it. In order to prepare the project for implementation, I was hired (along with fellow art students Sam Kinjorski and Liz Martin and engineering student Alysha Keeling) to redesign the project. We continued to reflect on a number of past designs and research new ideas.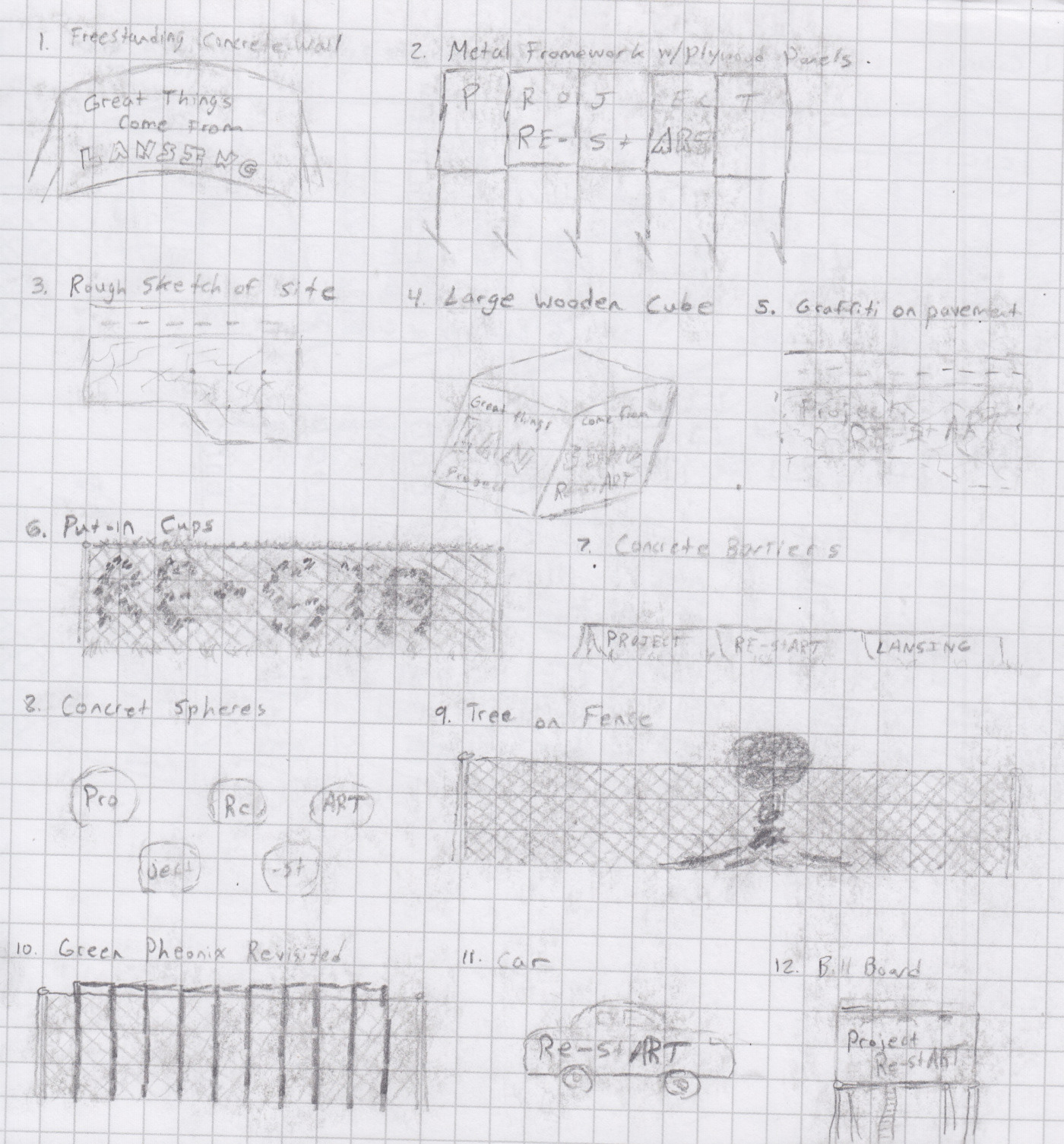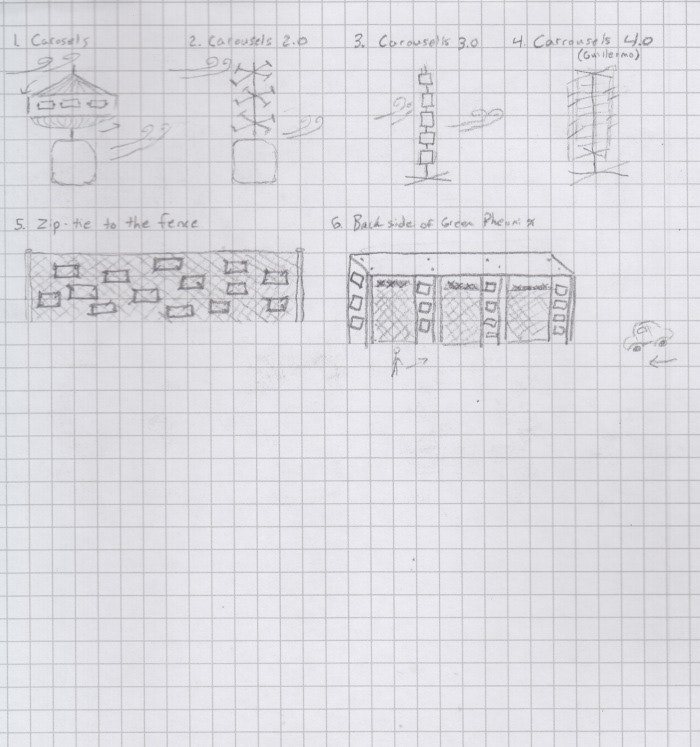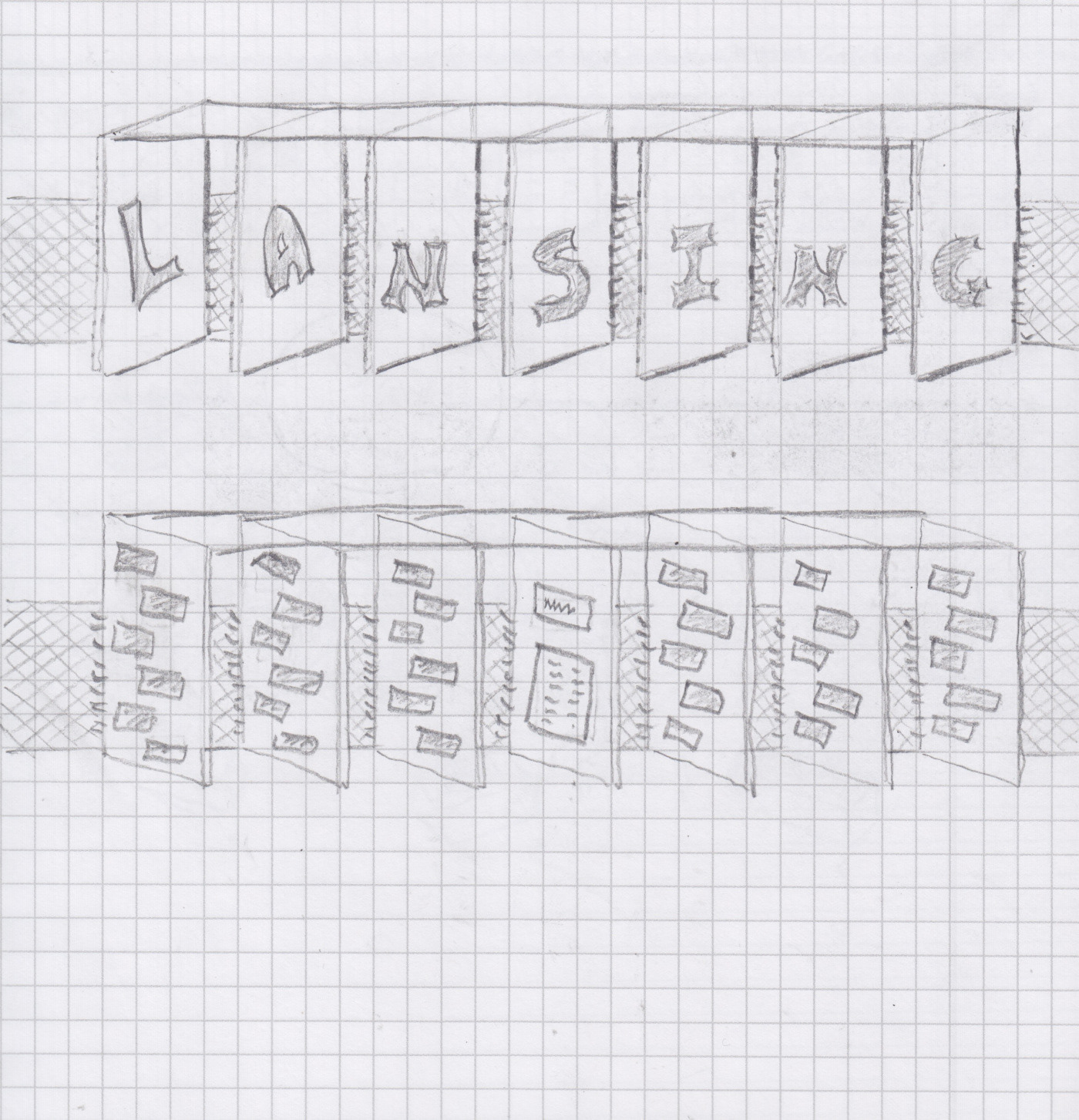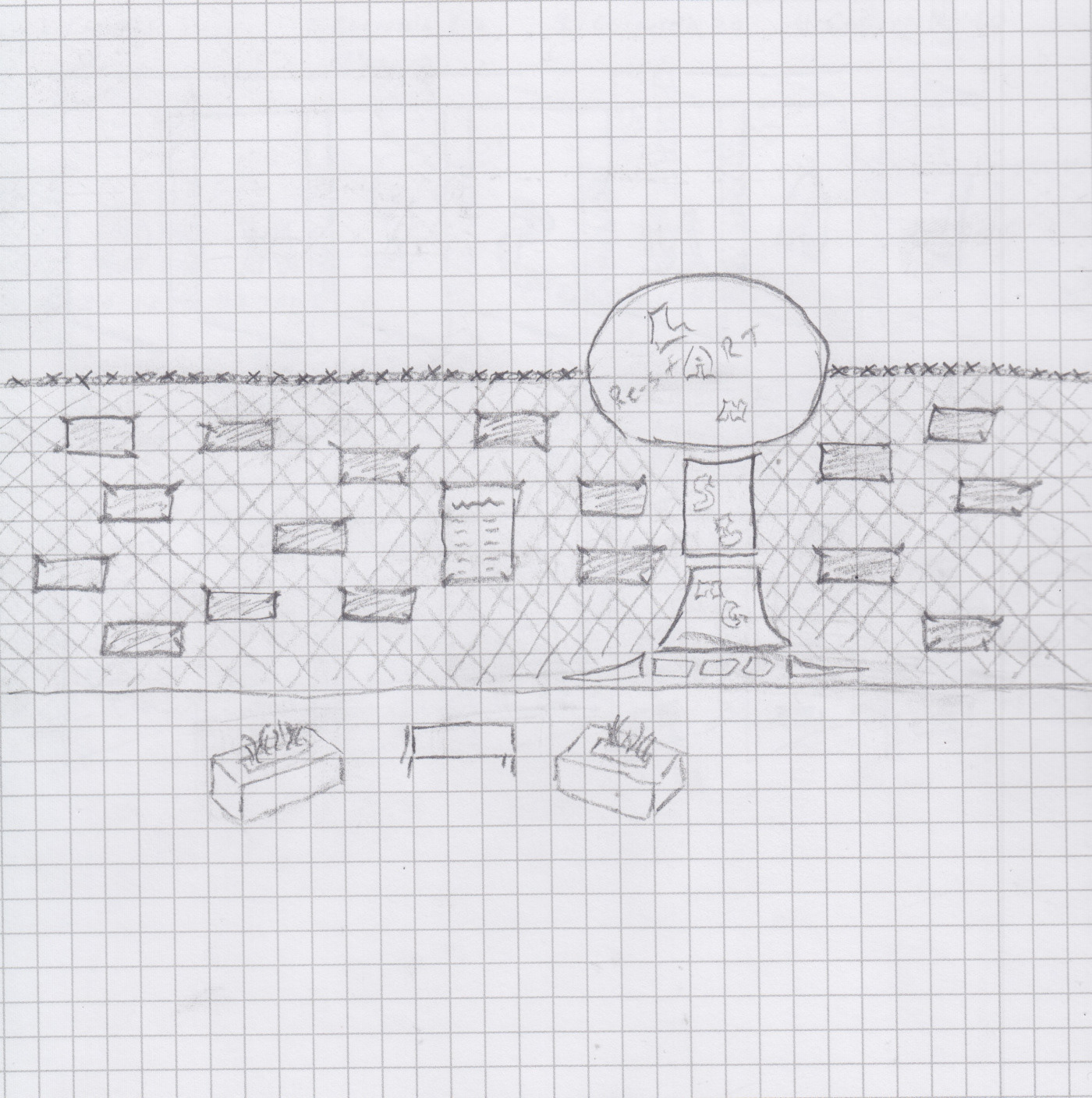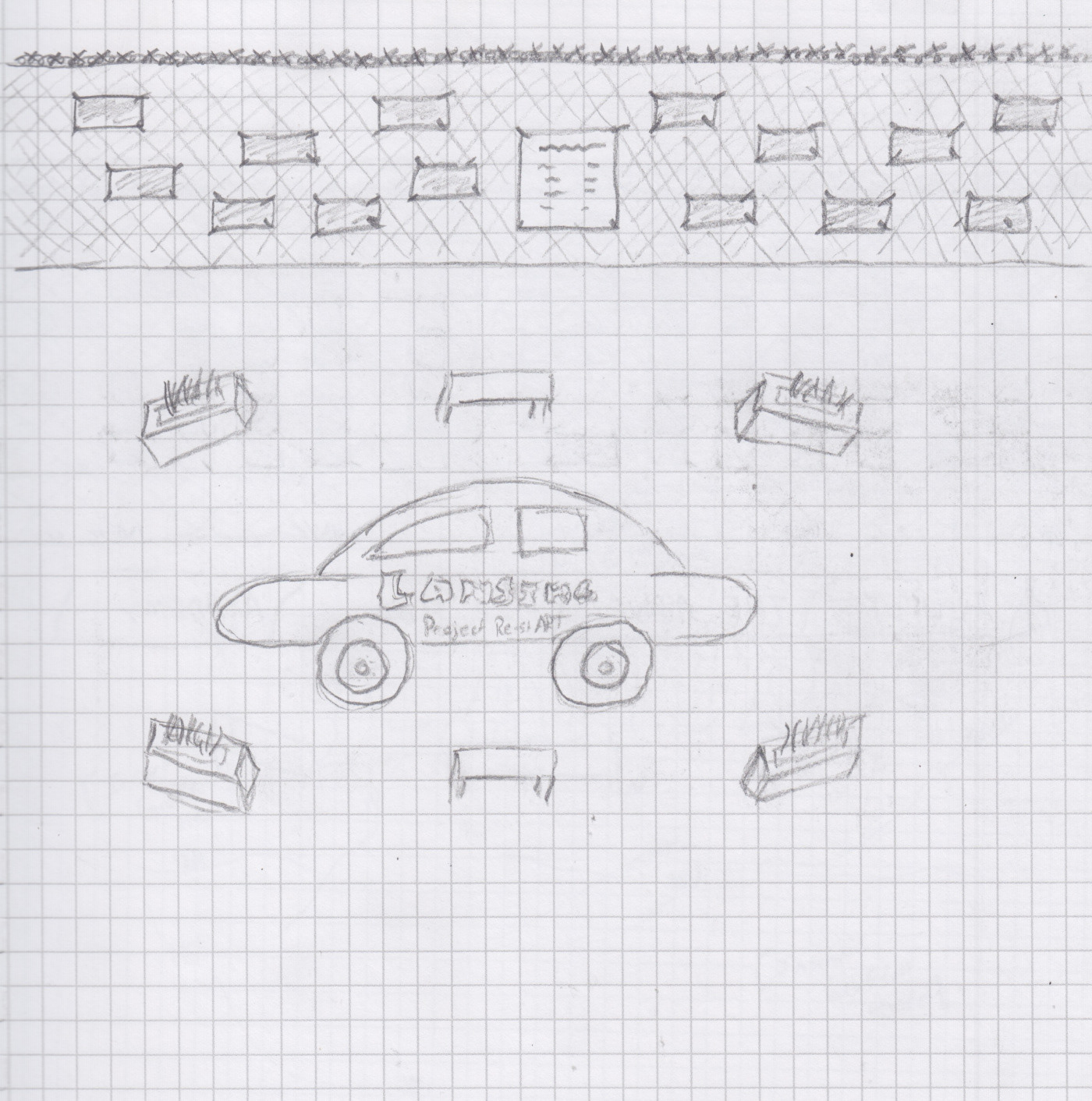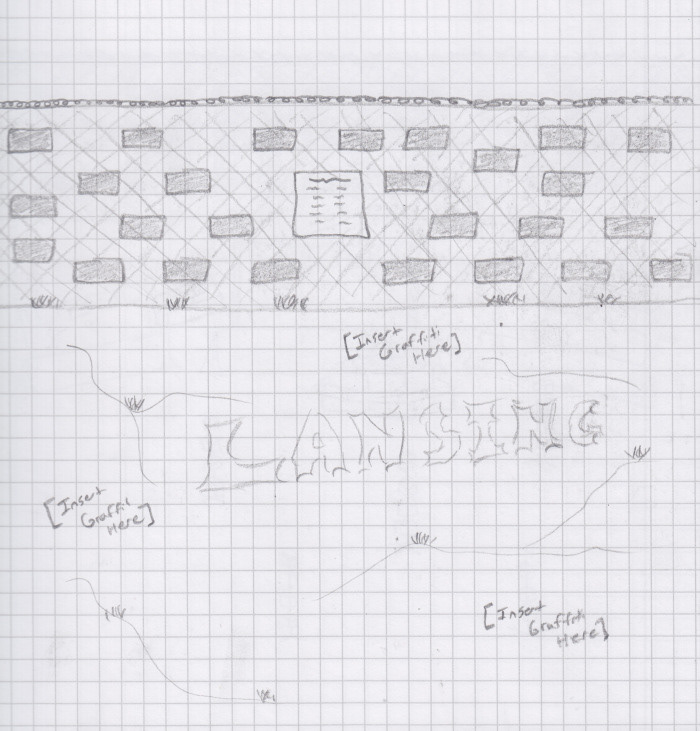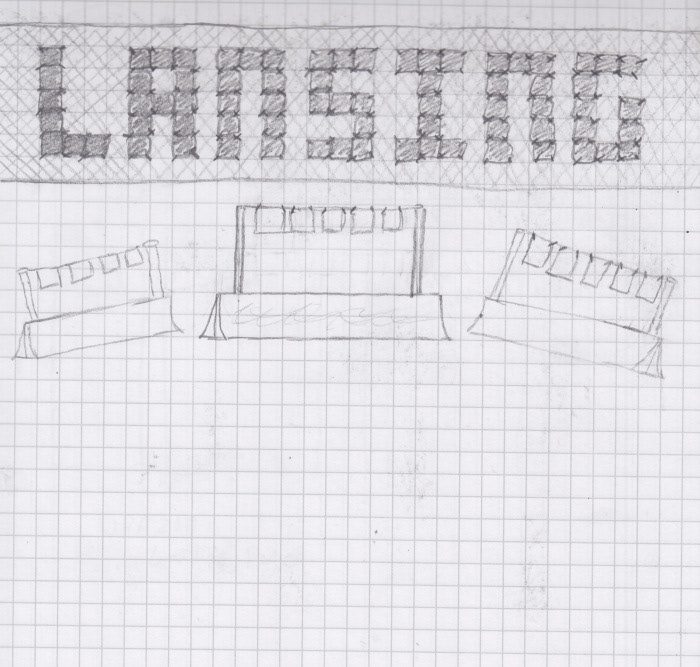 Eventually, in collaboration with our Next Step partners, we designed a concept that included a series of eight concrete road barriers with metal fence poles on either end. The barriers would include mosaic designs created by the Next Step participants. Additionally, steel cable would be strung between the poles to showcase painted plexiglass panels, created by Lansing elementary schoolers. After we presented this concept to our stakeholders, we split into an art program team and an installation team to refine the implementation process. Fellow RCAH student Sam Kinjorski and I joined the art program team, developing a lesson plan and creating a plan for organizing the classes among the college, Peckham, and the Lansing School District. We also presented the project to a number of community neighborhood organizations and stakeholders to increase community support, ownership, and involvement. Additionally, we helped develop the project budget and timeline. My last contribution in this phase of the process was coordinating the purchase of eight concrete barriers between RCAH and a local barricading company.

IMPLEMENTATION
In October of 2015, I returned to the project and helped finish the implementation process. The barriers had already been mosaicked, moved to the project site, and positioned on top of painted pavement. The plexiglass panels had already been painted by local elementary schools with the first theme 'Metamorphosis.' In these final stages, I helped anchor the poles in the barriers using cement, position the artwork on the chain, and anchor the chain to the poles. The project had an official unveiling on October 28th, 2015.
REFLECTION
Throughout the many stages of this project, I learned valuable lessons and useful skills including:
→  Understanding the importance of interdisciplinary teams and assessing individual strengths
→  How to clearly define a problem and write a design brief
→  How to create a presentation that accurately communicates your message to key stakeholders
→  The process for developing and implementing art programs
→  Methods and strategies for community outreach and engagement
→  Project management skills including scheduling, compiling agendas, creating budgets, developing timelines, and assigning responsibilities
→  Understanding the importance of prototypes, including sketches, 3D models, and full-scale models
Additionally, my fellow RCAH students who worked on this project and I were runner-ups for the 2nd Annual MSUFCU RCAH Dean's Choice Award for Innovations in Civic Engagement, which recognizes students who foster innovation using the arts and humanities in community settings. This gave us all a foundation for continuing civic engagement work in our future projects.